Rabbi Aaron Shub

Rabbi Aaron Shub was raised in Los Angeles, where he spent his childhood at Jewish day schools. He learned and loved the Hebrew language from an early age, and carried that with him into adulthood, and now raises his children, Aryeh and Mina, in Hebrew. Rabbi Shub was raised by a secular, but deeply Jewish and passionately ethical, father, and by a mother who placed the highest value on education, and who believed in the importance of Jewish tradition. It was natural, then, that a deeply seated sense of being a Jew, alongside a tacit understanding that one need not be religious in order to be moral, or even to attain spiritual awakening, took root in him. As he discovered spirituality through martial arts, and through his acting training in college, he sought to develop those spiritual attributes of self-awareness, self-transcendence, empathy, and awareness of the sacred, through the practices and study of Judaism.
Since then, Rabbi Shub has gone on to work and study as a teacher, both domestically and abroad. He had his first teaching internship in Tel Aviv in 1997, returned to Los Angeles to teach Hebrew to high school students, and went on to teach English to children in Seoul, Korea. It was there that he met his spouse, Abbie Yamamoto, under what was probably the only sukkah on the Korean peninsula at the time. Since then, they have lived in Los Angeles, where Rabbi Shub earned his Masters of Education degree at the University of Judaism (since renamed "American Jewish University"), where he also began his rabbinical studies. He took a leave of absence to accompany his spouse to Tokyo, where she spent the year engaged in intensive research toward her doctorate, and he studied Japanese, martial arts, and Talmud. He continued and completed his rabbinic education at Yeshivat Chovevei Torah in New York.
During his time in yeshiva, Rabbi Shub was introduced to the work of clinical chaplaincy. First at New York Presbyterian/ Columbia University Medical Center, and subsequently at UK Healthcare in Lexington, Kentucky, and finally at Sharp Memorial Hospital in San Diego, California, Rabbi Shub studied and performed the work of a clinical chaplain. He accompanied critically ill and dying patients, and their loved ones, through their crises. He provided them with the necessary spiritual care of empathic presence, deep reflective listening, prayer, and meditation, helping people to find meaning and sacredness through the life-transforming and often painful events that they were living through. Most of the patients were not Jewish. Rabbi Shub approached them as human beings with their own individual spiritual needs and modes of expression.
Rabbi Shub will be serving the Jewish community of Portland not only as rabbi of Shaarey Tphiloh, but also as Director of Jewish Life and Learning at Levey Day School, where he will teach Hebrew language and Jewish values through Torah.
---
Josh Pernick, Student Rabbi from Yeshivat Chovevei Torah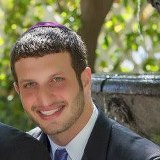 Josh Pernick is currently a rabbinical student at Yeshivat Chovevei Torah in NY. A graduate of Brandeis University, he worked in the field of Jewish education for a number of years before beginning his rabbinic training at YCT, obtaining a Master of Arts in Teaching in Jewish Day School Elementary Education through the DeLeT program at Brandeis University as well as completing a post-graduate fellowship in Jewish education through the Pardes Center for Jewish Educators in Jerusalem. He spent the past few years teaching Judaic studies at Jewish day schools in Charleston, SC, Watertown, MA and Atlanta GA, and currently teaches in a community education program at the Hebrew Institute of Riverdale in NY. Josh also serves on the Judaic Studies teaching staff during the summer at Camp Yavneh in Northwood, NH. The son of a pulpit rabbi, Josh is looking forward to beginning his rabbinic career at Shaarey Tphiloh, learning from all of you who have been part of this community for so many years about all of the unique qualities that make Shaarey Tphiloh such a warm and special place.
Josh performed a year of "national service" after college through Americorps, working as the outreach coordinator for a small non-profit organization in Charleston, SC. This organization provided resources and support to abused and neglected children and their families. As the outreach coordinator, my position was to develop relationships with local religious institutions, schools, community institutions and community leaders to support the work of the organization.
While living in Charleston he served on the board of the Young Adult Division (YAD) of the Charleston Jewish Federation, and served as YAD's representative to Charleston's Jewish Community Relations Council.
In addition, he spent one year as a Early Childhood teacher at the Addlestone Hebrew Academy in Charleston and a year as a teaching intern at the Jewish Community Day School (JCDS) of Boston. In 2015, he was a Lower School Judaic Studies teacher at the Atlanta Jewish Academy in Atlanta.
Alongside his studies at YCT, this year he served as a High Holiday prison chaplain at the Rikers Island correctional facility. Josh also participated in a "Rabbi's Without Borders" retreat addressing the topic of Judaism and Social Justice. The retreat was sponsored by CLAL with rabbinical students from many other schools.
Josh is currently a fellow in AIPAC's Leffell Israel Fellowship and in the Wiener Center for Leadership and Learning of the UJA-Federation of NY's Graduate Fellowship.
---
Rabbi Herzfeld has made aliyah with his family. We thank him for his years of service and wish them all well as they begin their new life in Israel.  
Here is an update on the advocacy Rabbi Herzfeld has been doing.