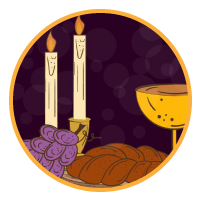 Temple Beth El and Congregation Shaarey Tphiloh are partnering to offer Kid- dush refreshments on Shabbat and holidays. Sharing Shabbat service and Kiddush is a wonderful opportunity to support our congregations, build community, share in the simcha of a birthday, anniversary or graduation, and offer com- fort to those observing a yahrzeit. As always, you can prepare your Kiddush meal yourself in our kitchen or you can have our wonderful Kiddush Crew prepare it for you at one of three levels. Kiddush sponsorships also underwrite our regular weekly Kiddushes so that we can continue to serve delicious food on Shabbat mornings throughout the year.
---
The prices for Shabbat morning kiddush sponsorship are:
Standard $75
(Challot, cheese, crackers, veggies, hummus, herring, gefilte fish, fruit and dessert.)
Deluxe $125
(Additional dips, tuna and egg salad and more extensive dessert selection).
Premium $200
(Additional bagels, deviled eggs, cream cheese and 3 lbs of lox).
Click Here to Sponsor a Kiddush
---

*All transactions are securely conducted on our DonorBox page and can be completed with a PayPal account or any major credit card.